April 27,2012-April 29,2012 Environmental Nature Center
  Opening time:April 27,2012 Afternoon VIP EVENT 17:00-20:00
  Show time: April 28,2012-April 29,2012 11:00-17:00
  Add:Environmental Nature Center 1601 Sixteeth Street Newport Beach,CA 92663
  Contact:Mary Wong 626-216-6537
   Lloyd Ikerd 562-633-3000
  Organizers:Environmental Nature Center
  Co-Organizers: Los Angeles Chinese Culture Development Center
   U.S.Oriental Culture Association
   Exact Tax.Inc.
  2012年4月27-29日 美国新港海滩市环境自然中心展厅
  开幕时间:2012年4月27日 17:00-20:00
  展览时间:2012年4月28-29日 11:00-17:00
  地址:美国新港海滩市环境自然中心展厅1601 Sixteeth Street Newport Beach,CA 92663
  查询电话:Mary Wong 626-216-6537
   Lloyd Ikerd 562-633-3000
  主办单位:美国新港海滩市环境自然中心
  协办单位:美国洛杉矶侨报中国文化发展中心
       美国东方文化联谊会
       永利会计师楼
   Forward
   序言
   Lloyd Ikerd
劳埃德? 艾卡尔德
  I recently met Bo Hong and was introduced to his art through a friend, Mary Wong, who had acquired his paintings early in his career. His awarded works and exhibitions debuted back in 2002. To me, he has opened a door to the majestic and grandeur of China that I believe is unknown to many Westerners. He is famous for focusing on the beautiful interior landscape of the country in intimate details.
  Bo Hong has brought out the soul of Chinese culture in his landscape paintings. Viewing Mr. Hong's landscapes is truly a memorable, breath-taking experience: without physically being in the nature, but letting your mind become immersed and find yourself traveling along the paths in the forest or drifting down the rivers. You can see waterfalls plunging into the vast valleys, rivers searching for the sea and pristine lakes; fog shrouded mountains with nature's bounty of flowers, trees and wildlife as never seen before gives one a sense of serenity.
  Starting at a young age, Mr. Hong brought forth the ancient art of painting learned from centuries of artists before him. He transforms the nature into works of art using the ancient methods: Grinding his own colors and ink, choosing the top quality and aged xuan paper,selecting brushes made of the hair of different animals; more importantly, using his artistic mind through consistently sketches the nature where ever he travels. He did not only learn from the old masters but also created his own style, and gradually became "the quintessence of neo-classical Chinese painting style".
  "A Pure View" is an exhibition to present Mr. Hong's latest works. It is my pleasure to support this remarkable artist and introduce his art to our Chinese friends and our Western culture.
  最近我通过一位很早就开始收藏洪波先生作品的朋友曼利的介绍,结识了这位画家并进入了他的艺术世界。洪波的作品早在2002年就开始应邀参加展览并获取奖项。时至今日,西方世界的艺术爱好者对他可能仍然有点陌生,但在中国,他的名气早已传遍大江南北。洪波先生以充满创意的笔触、清新浑厚的画风来描绘祖国的秀山丽水而著名。
  洪波在他的山水画中着重表达了中国文人的情操和品味。观赏洪先生的作品是一种难以忘怀的体验:你会不知不觉地融入画中的境界 – 在林中的小径上漫步;在小舟上随波逐流;你可看到瀑布尽情地冲入深谷,河流也在不停息地追寻它们的归宿;你还彷佛置身于云雾缭绕的丛山和密林幽谷之中,观赏着鸟语花香、古寺茅舍….。大自然的和风细雨,会将你尘俗的烦恼尽数洗涤….
  从小就开始学习书法绘画的洪先生将中国古老的绘画艺术发扬光大。他传承了传统的技法和材料:自己动手研磨墨汁和颜料;使用最好的老宣纸;挑选适合自己风格、用不同动物毛发制成的毛笔。更重要的是:通过不间断的四出写生,将他自己对大自然的体会,还原到作品之中。他不仅学到了古代大师们的精髓,而且将它加以发展,逐渐地形成了自己的风格。现在,洪波先生已成为许多人所称道的"中国新古典主义绘画"的典范。
  《溪山清远》是一次展示洪先生最新作品的画展。我很荣幸能在这里表达我对这位杰出画家的支持并把他的艺术介绍给我们的中国朋友以及西方的文化艺术界!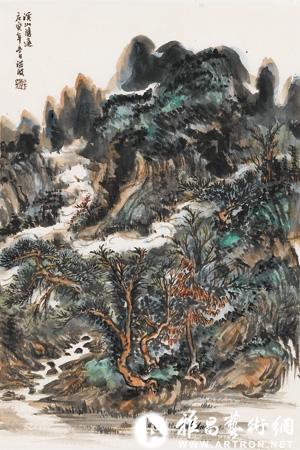 溪山清远